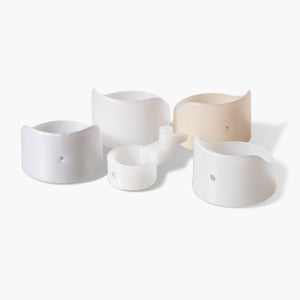 Pack of 5: (1) 50/50 Adapter (1) Stencil Cap™ Blank, 1mm, 2mm, and 3mm.
This range of adapters allows you to achieve any level of detail you would need in spray painting. 
Best used paired with a low-pressure thin cap. ie. Gold Dot Skinny, Grey Dot, MTN Pro Thin, Montana Level 1
Works with all German Montana Cans, MTN94, Alien, Belton Molowtow, Flame, Sugar, Ironlak, Kobra, Dope, Klash, Σ80.
Works only with female valve cans. Does not work with male valve cans.